Aggies Blow Past Hogs; Horns Next Week
College Station, Texas- Kyle Field played host to Arkansas on Senior Night for the few Seniors that A&M has this season. This Senior class have been the leaders that have helped bring the Aggies back to national prominence. The Seniors that were honored for their four or five years of commitment to the program were: DE Von Miller, QB Jerrod Johnson, WR Terrence McCoy, TE Kenny Brown, G Matt Allen, T Vincent Williams, DE Cody Williams, DT Lucas Patterson, and MLB Michael Hodges. These Seniors certainly went out with a bang as the Aggies dismantled the Razorbacks by a score of 49-7.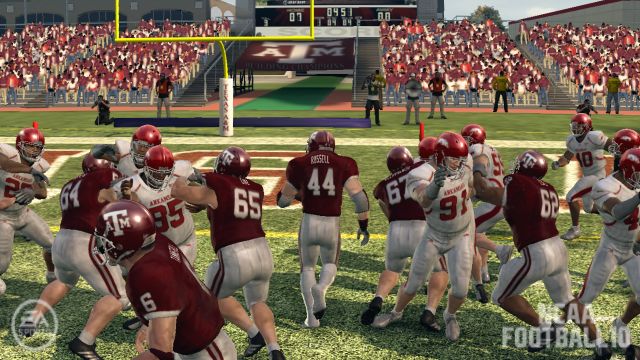 The LIne Makes a Huge Hole for the Russell TD
The Aggies would dominate the game from start to finish minus one play for Arkansas. The Hogs only made one play all day, but it was a big one, a 88 yard run by Johnson. Even with that run the Aggies held Arkansas to only 88 yards of total offense and 92 rushing yards. The Aggies gave up a season's best 65 yards through the air and held the Hogs to 1-7 on third down, while A&M was 7-9 on third down. Tannehill continued to play well today as he had a 254.1 passer rating thanks to his 15-17, 3 TD performance. He wasn't too shabby on the ground either going for 108 yards and a TD on just 16 carries. That gives him 931 rushing yards on the season, leaving him 69 yards away from a 1,000-1,000 which is the goal every season for an option quarterback. Russell was not as effective today as he only rushed for 77 yards, but he looks to bounce back with a big week next week. The Aggie's offense as a whole gained 465 yards giving them 4448 yards on the year, 404 yards/game. The Aggies still lead the nation in rushing with a staggering 2814 yards, 256 yards/game. The Aggies also have the top run defense at 428 yards allowed, 38 yards/game. The Aggies defense as a unit has improved a lot as the season progressed and has given up only 2864 yards all season, 260 yards/game. The defense has given up 178 points all year, 16.1 ppg, while scoring 39 ppg. The Aggies will hope to keep all those trends going next week in Austin a place they have only won 12 times against the defending National Champions, Texas Longhorns, who also post a 29 game win streak and 19 game home win streak.

The Senior with the TD Catch


Gray Turns the Corner for the Touchdown