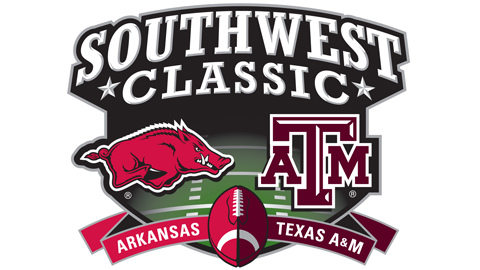 Aggies Dominate Arkansas from Start to FInish
College Station, Texas-This year's Southwest Classic was one that Hogs fans will soon want to forget. Last year's 49-7 beating at home was bad, but at least Arkansas showed some fight and competed for a little while. This year the Aggies were out to prove a point and did just that. For the opening kickoff to the last play the Aggies were unrelenting, and put together their best performance in the Bear Bryant Era. Not only did the Aggies out score the Razorbacks 47-0 but they out gained them 337 to 121 and never allowed Arkansas to even cross midfield. Texas A&M had only one chance to return a kick and they even did that. Arkansas came into the game knowing that if they hoped to win they would need to score points due to a lack of talent on defense and they believed that the offense they had could put up the points, but it was not the case. The highly touted Ryan Mallett was a mere 8-20 for 93 yards with 2 INTs, giving him a dismal passer rating of 59.0.

The Star FS Normally Known for his Defense Scores for his Offense
The Aggies were basically allowed to do whatever they wanted whenever they wanted. After a quick Arkansas three-and-out to start the game the Aggies got the ball and were looking to take the early lead. After getting to midfiled the Aggies were poised to get into the endzone and Tannehill took care of that on the next play as he optioned right and scampered 50 yards for the 7-0 lead.

Tannehill Scores on his Longest Run of the Year
From then on the game was like a run away train and there was absolutely nothing Arkansas could do about it. The Texas A&M defense was all over the field and Ryan Mallett was confused and frustrated all game long. Both of the picks he threw were when he was under pressure, as he was most of the game. The best thing for the Aggies was that they were able to get some young guys a lot of playing time. Backup QB Dorman got his first action of the season as he could possibly replace Tannehill next year, and a whole host of other players got onto the field for the first time. Next week the Aggies will face a stiffer challenge as they open up Big 12 play against Nebraska. Nebraska is a talented squad who could push the Aggies.

McQueen Sits on it and Makes the Pick


Rice Delivers the Hit that Gets the Aggies the Pick