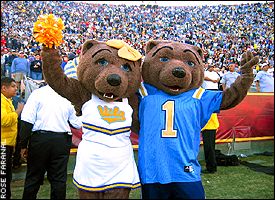 Statement: Well this has been a very productive but long week. I hate bye weeks and i cant wait to get back on the field against the beavers next week.
Reporter: How does Oregon State look?
Petersen: They are always a good football team and this year may be one of their best years. The coach is great and they have two fast and very talented wide outs and the katz kid can sling it. It should be a great game im looking forward to the showdown in Corvallis.
reporter: Any news on the recruiting front?
Petersen: just got off the phone with the 4 star running back Robby McDowell and he told me he is committing and excited to be a bruin.
Reporter: What did you think of Franklin's performance against Indiana last week?
Petersen: He played fantastic but he has to stay injury free and he must remain consistent once we start playing the better teams this year.
Reporter: Do you think he has any heisman chances?
Petersen: If he can stay healthy and can keep running the way he did last week he has a chance.
Reporter: Your defenses has given up an average of 28 points in the first two games are you worried at all?
Petersen: No we have just been beaten on missed assignments but overall i think we have played solid other than about 4 plays and this bye week helped us get those mistakes fixed.
Petersen: alright i gotta call some recruits talk to yall later